I've been attempting to research my late Uncle Jim's WW 2 Bomb Group / Squadron but am not finding as much data available for the for the Pacific Theater Bomb Groups. The European Theater Groups seem to have been better documented than their Pacific counterparts.
Uncle James Carl Bussinger was a 1st. LT. Piloting a B-24. - 13th. Air Force, 5th. Bomb Group, 394th. Bomb Squadron.
Jim was from Plentywood Montana.
5th. Bomb Group
394th. Combat Squadron
5th Bomb Group Little Queen Mary
B-24 13th A.F. 5th Bomb Group 394th Bomb Squadron Serial #44-40536
Sharpe 23 (Thomas Sharpe Collection)
I found the fate of the plane pictured above:
Serial # 44-40536 (5th BG) lost Jan 5, 1945, SW Pacific.
Missing Air Crew Report #11532
Scrolling through the Army Air Corps Aircraft Data Base I found that large numbers of 5th. Bomb Group B-24's were lost during the S/SW Pacific Campaign.
B-24 Pilot 1st. LT. James Carl Bussinger and my Mothers younger sister, Janie (Fitzgerald) Bussinger.
I have not been able to find any specifics on Uncle Jim's service, other than he flew numerous combat missions and was with the 394th. Squadron until the end of the War. Jim passed away a few years ago and never spoke about his WW2 experiences with me.
13th Air Force
Constituted as 13th Air Force on December 14, 1942 and activated January 13, 1943.
The 13th AF served in the South and Southwest Pacific.
It was also known as the Cactus Airforce
Constituted as Thirteenth AF on 14 Dec 1942. Activated in New Caledonia on 13 Jan 1943. Served in the South Pacific and, later, Southwest Pacific, participating in the Allied drive north and west from the Solomons to the Philippines. Remained in the Philippines, as part of Far East Air Forces, after the war. Transferred, without personnel and equipment, to Okinawa in Dec 1948 and back to the Philippines in May 1949.
Commands. XIII Bomber: 1943-1946. XIII Fighter: 1943-1946.
Stations. New Caledonia, 13 Jan 1943; Espiritu Santo, 21 Jan 1943; Guadalcanal, 13 Jan 1944; Los Negros, 15 Jun 1944; Hollandia, New Guinea, 13 Sep 1944; Noemfoor, 23 Sep 1944; Morotai, 29 OCt 1944; Leyte, 1 Mar 1945; Clark Field, Luzon, c. 1 Jan 1946; Ft William McKinley, Luzon, 20 May 1946; Clark Field, Luzon, 15 Aug 1947; Kadena, Okinawa, 1 Dec 1948; Clark AFB, Luzon, 16 May 1949-.
Commanders. Maj Gen Nathan F Twining, 13 Jan 1943; Brig Gen Ray L Owens, 27 Jul 1943; Maj Gen Hubert R Harmon, 7 Jan 1944; Maj Gen St Clair Streett, 15 Jun 1944; Maj Gen Paul B Wurtsmith, 19 Feb 1945; Maj Gen Eugene L Eubank, 4 Jul 1946; Maj Gen Charles T Myers, 1 Dec 1948; Maj Gen Howard M Turner, Jun 1949; Maj Gen Ernest Moore, 16 Oct 1951; Maj Gen John W Sessums Jr, 10 Oct 1952; Brig Gen William L Lee, 27 Aug 1954-.
Campaigns. China Defensive; Guadalcanal; New Guinea; Northern Solomons; Eastern Mandates; Bismarck Archipelago; Western Pacific; Leyte; Luzon; Southern Philippines; China Offensive.
Decorations. Philippine Presidential Unit Citation.
Insigne. On a blue disc, bordered golden orange, a pair of golden orange wings surmounted in base by a white star charged with a red disc; all below the Arabic numeral "13" in white. (Approved 18 Jan 1944.)
A miraculous story about a 394th. Squadron Survivor:
Lt. Pete Konduros
B-24 Bombardier / mid-air explosion survivor Pete Gus Konduros was born in Anderson, South Carolina on April 27th, 1922. He was a student at Clemson University in South Carolina when Pearl Harbor was attacked. As an ROTC cadet at Clemson he was encouraged to remain in the ROTC program and to continue his coursework. In 1943, during his junior year, he was inducted into the Army as an infantryman. Through sheer luck and determination Pete managed to get transferred into the US Army Air Corp where he was trained as a bombardier in B-24's. Pete was assigned to the 394th Bomb Squadron, 5th Bomb Group, 13th Air Force and was shipped off to fight in the Pacific Theatre in mid-1945.
Pete had several brushes with death during his training and also while flying over ninety hours of combat during nine missions over enemy held territory. Pete was nearly shot down in an earlier mission but it was the events that transpired while flying his 9th mission that would change his life forever. It was during this 9th mission that Pete Konduros was quite literally blown out of his bomber when a flight of B-24's on the same bombing run inadvertently dropped their ordinance into Pete's bomber formation flying below.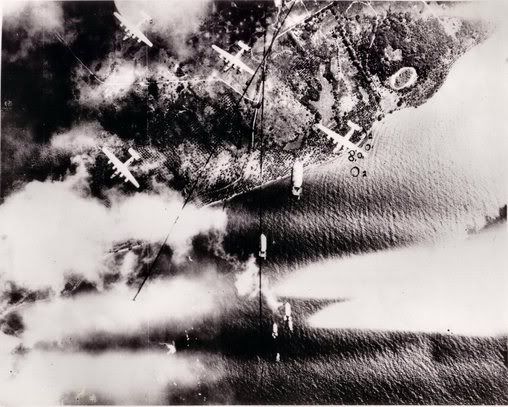 The results were catastrophic. Two 1000 lbs. bombs with 0.10 second delayed fuses ripped through Pete's B-24, exploded directly beneath it and, in an instant, Pete found himself in the forward section of the nose of the B-24. The rest of the plane was vaporized. Nothing remained of Pete's B-24 except for the small section of the nose which he found himself in. Immediately Pete realized that he didn't have his parachute on and his movement was limited by the centrifugal forces that were being generated as the nose section of his B-24 twirled and tumbled towards the Pacific Ocean below.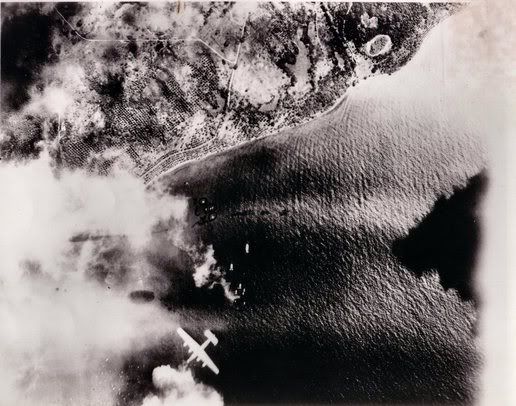 In what Pete describes as a miracle, he managed to get his flak vest off, his parachute on and, during the last precious moments before the nose section of the B-24 he was trapped in crashed into the ocean, he was able to get out and pull the ripcord. Pete was the lone survivor. All nine of his fellow crew members perished. He survived the explosion but he was not out of trouble yet. Still stunned from his ordeal, he bobbed in the water just offshore of Zamboanga, Mindanao in the Philippines. From his vantage point he could see, hear and feel the bombs from his flight of B-24's exploding on a Japanese held airfield that was being targeted. He was just a few hundred yards away from the action and it didn't take long for Pete to realize that by staying there he risked being a casualty of his own exploding bombs. Also, to be taken prisoner by the Japanese may have resulted in death. He decided to swim away from the shoreline and distance himself from the maelstrom. Pete swam through the wreckage of his own plane, he swam through the bodies of his fallen comrades and when he felt he was far enough away from the shoreline, he stopped and waited to be rescued…he hoped. Pete was fortunate enough to be spotted by a seaplane from the USS Phoenix.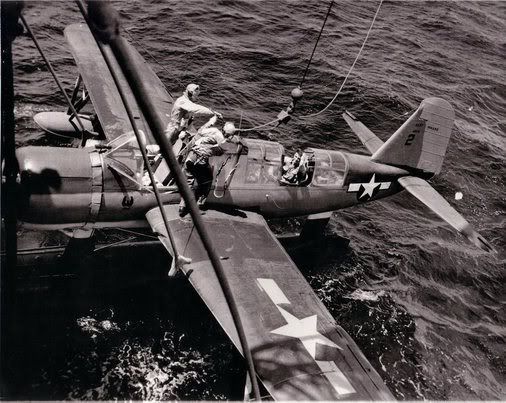 Under covering fire from US Navy Corsairs, the seaplane rescued him and transported him back to the ship where he spent several days resting and recuperating.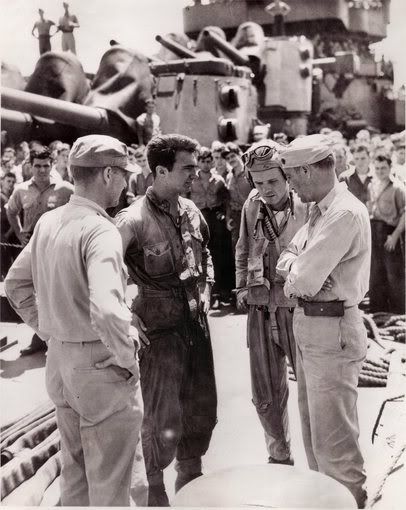 Pete was delivered back to his base on Bougainville but, by then, the war in the Pacific was winding down and Pete was released from active duty in the US Army Air Corp on October 28th, 1945. After the war Pete went back to school, finished getting his degree and moved to Houston to work as a stock broker and started a family. Over time, photos of Pete's rescue and, amazingly, his B-24 being destroyed by friendly fire were made available to him. They stand in mute testament to the 9th mission the Pete survived over sixty years ago.