This MACR documents the loss of B-17 #42-29756 "Big Chief" which my cousin (2nd. LT. Charles E. Sweeney) was aboard on June 13, 1943. His plane was listed as "missing" and quite a bit of time passed before he was reported as a Prisoner Of War by the German Authorities.
He documented his story for Family members a year or so before his death, last year. The story is somewhat long, but I think it needs to be told.
I'll be relaying a large part of his story, in his own words in the few following posts.
MACR (Missing Air Crew Report) #16142.
Beating the odds in Texas?
This first entry starts in February, 1943. The crew is training in the southern US before deployment to England:
"Our crew flew down to Pyote, where a large bomber base was under construction. The wind blew constantly, with a dust storm in the air all the time. We said Old Mexico would blow by one day and New Mexico the next. We practiced dropping bombs on targets, air to ground gunnery practice, and many lengthy flights."
"One evening in February 1943, we took off to fly the airline beams to Albuquerque, NM when there was a fog blanket of 1500 feet.The Tower said we could fly above it and when we were due to come back about 2 AM the next morning we would have a cloud ceiling of 1000 feet. We arrived back the next morning with a dense fog below us."
"We called the Tower and they told us to do a procedure let down and turn around on the beam, which we did. When we got down to 1000 feet we were still in dense fog so we decided to let down to 500 feet as that country is very flat and there were lots of gas flares burning from the local gas wells which we thought we could see easily at 500 feet. If we didn't get down at Pyote, we would have to fly back to Albuquerque or some other location to rest and refuel. If we didn't see flares at 500 feet, we would pull up to land elsewhere. "
"We let down to 500 feet and did not see any flares and was just starting to pull up when SMASH, BANG, we hit the ground. We plowed along the ground; all the propellers had hit and become deformed, the number 3 engine was torn off the wing, and wind milled through the tail of the plane, and the nose had scooped up a couple feet of dirt. The plane had cracked and bent behind the bomb bay and the fuel line to the torn away engine was spewing gasoline on the ground near the plane. We opened the window on the left side of the cockpit and all of us in the front climbed out that window. The rest of the crew came out through the door in the rear of the fuselage. Luckily, the tail gunner had left his station and come up to the radio room before we hit the ground, and the engine went through the tail. All ten members of the crew survived with no broken bones, but a lot of bruises and scratches. The flight Engineer took a roll of toilet paper and plugged the leaking gas line."
(net photo)
"We built a small bonfire some distance from the wreck and the fog on the ground was so thick you could see your shadow from the fire on the fog bank. We got out the emergency raft which had an emergency locator in it by continually turning a crank, which we started operating immediately. We knew about where we were, as we had been flying the beam when we went down, so the Navigator, Stewart Bachtelle, and I started hiking toward the base. We had a compass and a pen light that we used in the cockpit, and started out in the fog and darkness. We walked about 13 miles and got to the base at about 7:30 in the morning. The Base knew we were down somewhere but they didn't know where, as they had not picked up any signal from our location finder. "
"Equipment was sent out to bring back the crew and the plane and the verdict of the investigation was that our altimeter was off about 500 feet. We returned to duty that same day and we all survived with no ill effects."
Pyote Airbase, Pyote Texas in 2006 http://en.wikipedia.org/wiki/Pyote_Air_Force_Base
Mix of B-17's & B-29's in mid 1940
1st. LT. Clark Gable & On to England
The crew had a few stops before heading over seas. The plane had it's name "BIG CHIEF" painted on the nose, guns were installed and additional armor plating was installed for additional protection of the Pilot / Co-Pilot. While stuck for a few days for repairs, the crew visited New York City, leaving after a bit too much night life and spending all their money.....
We'll pick up the story as they leave the US:
"
We then flew to Gander Newfoundland from where we would take off for the hop over the North Atlantic to England. We stayed in the Bachelor Officers' Quarters
at Gander
and when another crew moved in accross the hall we visited them. "
"We met Clark Gable who was going overseas with them to photograph some of the air combat over Germany. He was the first man I had ever seen wearing a girdle, but the crew members said he was a regular guy. He had a case of whiskey and a case of coca cola in the waist of the plane, and stayed pretty happy. While we were at Gander, Gable was promoted to 1st. Lieutenant and bought all the drinks in the Officers Club that day."
"When the weather was right for the flight across to England we took off, and except for flying through a weather front and picking up ice on the props and wings, which we eliminated by flying about 50 feet above the waves, we had an uneventful trip."
"We landed at Prestwick Scotland, and were directed to our parking area by the Tower, telling us to follow the "ditty car", so we knew we were overseas. From Prestwick we were sent to Grafton - Underwood, England as our new base in
England."
The early missions
"We immediately started flying daylight bombing missions over Germany even though our ground support crews had not yet arrived. They came over by boat, while we had flown over. Their absence meant that we had to service our planes engines, fuel it up, and load bombs ourselves. Sometimes we would load 500 lb. bombs and then the orders would be changed to unload the 500 lb. bombs, and load 1000 lb. bombs."
"Since all these bombs had to be loaded and unloaded into the bomb bay using a chain hoist, it became very time consuming. We speeded up the unloading process by bringing our mattresses out to the plane, spreading them on the hard stand under the bomb bay and having our Bombardier, Andy Anderegg, toggle them out one by one. We would roll them out of the way until they were all unloaded and then haul them back to the bomb dumpwhere we could load up the 1000 lb. bombs."
"A crew of a Bomb Group near us started unloading their bombs the same way we were doing it on our mattresses, and a bomb exploded, doing a lot of damage and killing the entire crew. We stopped using our mattresses, and as our ground crew arrived about this time, we were much relieved to be finished with that duty. We were not getting much sleep when we had to do all the service work as well as fly the missions."
S.Sgt. Roy D. Crozier & T.Sgt. George N. Treece with their flying nanny
"After a mission, we had an engine damaged and had to have it replaced. After replacement, we had to fly the plane to make sure the new engine was performing correctly, so we we took off with a full crew for a trial flight. After we had been in the air for a while I went back to the waist of the plane to check on the crew. I found the tail gunner the radio operator with a nanny goat, resting comfortably. Because we only had powdered milk to drink in England, these two fellows had bought the goat, milked her daily and sold the fresh milk to the crews. They thought their nanny would enjoy a plane ride, and since it would be a short ride without being shot at, they brought her onboard."
Mission #5 - The final Mission - "Tail End Charlie"
"On June 13th. we were called to fly a mission to bomb the Submarine Pens at Kiel, Germany. Every American bomber that could fly was to take part in this raid. Each group consisted of 18 planes of 3 squadrons flying in a formation, which would put maximum fire power on the German fighter planes. We had no fighter cover or support at that time, so had to depend on our crew gunners. Our planes had guns in the nose, a top turret, the radio room, a ball turret, both sides of the waist, and in the tail."
"Since every bomber was to be in the air in this raid, extra planes from each group formed a composite Group. We were assigned to this composite Group and designated as the last plane on the lowest Squadron, which position was called "Tail End Charlie", also our Group was not a complete unit of 18 planes as we had only 14 planes in the Group."
"We rendezvoused over England to form our Group and then flew over the Channel to Germany. We were immediately met by German fighter planes - Focke-Wulf 190's and Messerschmitt 109's. When I first them above and to our right, I thought they were birds because there were so many of them, but knew birds did not fly at 20000 feet. Also. as soon as we crossed to Europe we were fired at by ground ack-ack gunners. At times the flack bursts were so thick that it seemed you could almost walk on them."
"When the fighters were attacking us, the flak stopped, but when the flak stopped the fighters would again attack. The fighter planes would get ahead of, and above us and then dive on our formation, flipping over on their backs, which were amored, as they sprayed us with bullets on the way down. Once and a while a fighter pilot would miscalculate and dive into a formation which would usually be fatal to both parties. We saw a plane near us hit in the bomb bay by a burst of flak and explode completely. We were lucky not to be hit by pieces as we flew through the debris."
"We lost several planes on the way to the target but we made the run over Keil. The submarine pens were made of reinforced concrete and I think they were invincible to our bombs. On the final approach to the target we could not take any evasive action but had to fly straight and level until the bombs were dropped. This was the most dangerous part of the mission."
"Immediately after dropping our bombs we could not close the bomb bay doors and had one engine on fire. We could not feather the propeller to stop its' wind milling because our hydraulic system had been hit. By that time there was only a flight of three planes left out of the 14 we had started with. "
"German fighters were ganging up on us and shot out our controls and started a fire in the Radio Room. We were descending in a tight spiral and had to bail out over the North Sea. We had been briefed that the North Sea was very cold and life expectancy in it was thirty to forty minutes. There was a stiff wind blowing, and it was a cloudy day, so we had no way of telling directions. Andy, our Bombardier, later said he had seen eight chutes beside his own after he had jumped."
POW
"I did not pull my rip cord on my chute until I was close to the water as we had been briefed that the German Fighters were shooting parachuters. Waves were several feet high due to the wind, but I lit on top of a wave and surf-boarded with the chute for a sail for several minutes. I was traveling in the direction of a fog bank which I thought might be land, so I continued in that direction for a while. Then I dumped the chute and started swimming. When I was tired, I would rest on my Mae West, then swim some more."
GE52 FK58 Channel Patrol Boat


"As I was swimming along I heard a noise, looked around, and there was a small German Patrol boat behind me. They threw me a rope and I climbed over the side into their boat. They had guns trained on me until I had been searched and then they took me to the bow of the boat where I found McKell, who had been picked up earlier. By this time I had been in the water for about 2 hours, and then I stood in the bow in the wind looking for the other crew members. This boat then took us to an island where we were taken to a farm house. The people there were very kind to us - gave us some dry clothes, food and hot wine."

"About five o'clock that evening we were taken by motor boat, under guard, to Pellworm Island where we met Bachtelle, Anderegg, and Smithson. They had seen two coffins there but had not been allowed to see the bodies, so we did not know if they were our crew members. I was very cold from the water and did not stop shivering for over a day."
About nine o'clock that evening, the five of us were put on board a good sized boat and put off for the mainland. The crew of the boat gave each of us three small bottles of beer and some crackers. We arrived at Hasum, Germany at midnight and were marched through the town to an S.S. Headquarters, where we were interogated and searched. We were then taken by truck to an Army barracks where we were put up for the rest of the night. Five other officers were already there who had been captured that day. The next morning we were given first aid and spent the day in the barracks under guard. We were visited by two German Fighter pilots who said they shot us down. If verified they would get a weeks leavefor shooting down a B-17. We verified it for them to keep them out of the air for a week, even though we had been hit pretty badly by flak."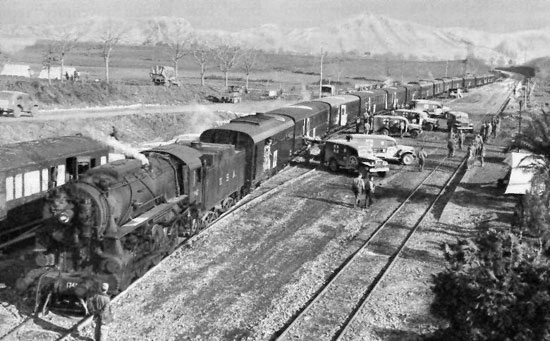 "That evening at four o'clock we were taken to the railroad station at Hasum, and left it at five o'clock for Frankfurt on the Mainz, accompanied by three guards. We changed trains at Hamburg, and were joined by twenty five or thirty prisoners, both Royal Air Force and American. We traveled in compartments on the train and were closely guarded for two nights and a day."

"We arrived in Frankfurt about eleven o'clock on the morning of June 16th, where we were put on a local Dulag Luft, and were marched to the prison camp which was the interrogation center for all air war prisoners. We were placed in solitary confinement there at 5 P.M. on the 16th and not removed until June 24th. I was interrogated by well dressed, smooth talking men who told me they were from the Red Cross and asked questions which had to do with military matters rather than personal. They said if I answered their questions they would notify my family I was a P.O.W. I told them nothing but name, rank, and serial number even though I was anxious about Naomi." (his wife in the States)
"On the 24th. I was taken out of solitary confinement and placed in a temporary camp where we were fed decently, given cigarettes, took a shower, and given some Red Cross food. I was allowed to shave with a safety razor which must have shaved a hundred men because it pulled out as many whiskers as it cut off. I was interested in finding out if the Nazi's were as efficient as an Army as the newspapers had indicated they were. I had become accustomed ti the Nazi salute, but found out they were no more efficient than we were. Also, I think their non-commisioned officers were chosen and promoted on how loud they could talk and shout."
Sagan - Stalag Luft III
"Saturday evening we were marched into Frankfurt and crowded into third class carriages. We were forced to give up our shoes and our belts and spent two nights and a day on the train, arriving at Sagan, Germany about 7:00 AM on June 29th. From Sagan we were marched to a Prison Camp Complex called Stalag Luft III, where we were marched to the forlager of the Center Camp, a Royal Air Force prisoner camp. Here we were searched, G.I. clothes and equipment taken from us, and then placed in the Center Camp with the British."
"We ate from a communal mess for a couple of weeks, prepared by R.A.F. Sergeants. We scrounged for prison made tin pans, brushes, cupboards, and any other equipment we thought we could use to set up our own mess.Everyone was very hungry at this time as we had been on restricted rations for about a month. I was made Reich rations officer for our block and I distributed black bread, blood sausage, and cabbage when available."
"Shortly after this we started cooking for ourselves and received one Red Cross food parcel per man per week, plus what came from the Reich. We formed an eight man combine with Anderegg, McKell, Power, Pinson, Meyers, Summers, and myself. The British were good to us, gave and loaned us equipment and taught us the ropes on how to get along in prison camp."
"The German word for a war prisoner was kriegsgefangenen, so we shortened it and called ourselves Kriegies....."
"The British had started an escape tunnel from the abort behind Block 39 but it was discovered by Ferrets. Ferrets were Germans who prowled around the camp both day and night, and at night brought in dogs.They spent their time looking for tunnels or any other type of escape plan which the prisoners might use."
"On september 9, 1943, we left the British at Center Camp and moved into the newly completed South Camp into an eight man room. The rooms were new and clean and we had some enlisted men to do the work. This was the first American Air Corps Prison Camp."
"In December, 1943, I received a Church Bulletin from Hardin (
home
) in which reverand England stated he had met with Naomi and Rick (
wife and son
) and both were doing well. This was the first news I had that I was a father and Naomi and Rick were both fine."
"We immediately began work on a theater, started a library from books sent to prisoners from home, sang songs on Sunday nights, played volley ball and base ball, and pulled stumps from the athletic field. The stumps became fuel for our little tin can cooking stoves. We were well organized with Colonel Goodrich as Commanding Officer, and Lt. Colonel Clark as the number two American Kriegie, in charge of any and all escape activities."
CAMP LIFE
"Winter set in and we started doing lots of reading and having bull sessions. We set up a large bulletin board on the outside of the cook house and on we posted "Dear John" letters to prisoners whose girl friends had decided not to wait for them. One letter to a Kriegie from his Aunt said, "you are having a wonderful experience over there, and while you are there be sure to eat lots of the good nut brown bread and be sure to attend a performance of the symphonyin Budapest." We also had a Kriegie cartoonist who started a comic strip called "Miss Penney", who had been shot down, and weekly told about her life in Stalag Luft III. there was always a crowd around the bulletin board whenever a new strip was posted."
Colonel Stevenson was a Kriegie, who was sitting in his room during the Christmas Season when one of the guards on the perimeter thought he saw some movement, fired a shot into the block, which hit Stevenson in the leg. He recovered nicely without much medical help."
"Band shows and plays were given in the theater which was completed in January. We had the part of our pay, which had not been alloted to our wives or family, going into a pool, and from it we bought the athletic equipment, band instruments, and theater curtain and equipment."
"We had a few Kriegies who let their hair grow long, dressed in dresses, put on makeup, and took female parts in plays and sang in the band. Some of them were pretty good we thought, but we also hadn't seen any females for quite some time."
FOOD
At this time we were getting our Red Cross food parcels, a few briquets of coal from the Germans, our Reich rations, and we were given a G.I. blanket in January.
This was the best period in our camp."
"The black bread which we were given had the following compisition:
50% bruised rye grain
20% sliced sugar beets
20% saw dust
10% minced leaves and straw.
Sometimes we found a little sand or glass in it, but it didn't improve the taste much."
"On holidays we tried to have special meals and programs. Our pans were made of tin cans from our parcels, and we were given a table knife, fork, and spoon by the Germans. In our combine of eight men we took turns as cook, dish washer, etc."
On Easter sunday we had an air raid and a Corporal Miles, who worked in the cook house, was shot and killed by a parimeter guard. He was standing in the open door of the cook house and should have been inside."
"Some of the Kriegies, who evidently knew something about making moonshine in a still, used some of the raisins and prunes from their food parcels, took some large round light globes from their rooms, filled them with water, sugar, and the fruit and let it ferment.They used some of the band instruments to make the still, which condensed the the alchohol strong enough to give them a head ache for a week. One of the Ferrets, who let them run the still at night in return for several drinks of the stuff, passed out and was carried out of the camp the next morning on a shutter by his coworkers. We understood that he was sent to the Russian Front for this escapade, and we had the prunes and raisins taken from our parcels for a while."
"On July 4th. I had the cooking detail and I had made a marble cake.To make flour we had to use hard tack biscuits rasped by a tin with holes in it. We had dried milk, oleo, chocolate bars and we used tooth powder that contained baking powder to make it rise. We thought it was good, but we were not hard to please."
"Another favorite was lemon pie, which was made by mixing condendo milk with a lemonade powder containing acid that made the milk thicken. The pie crust was made from the cake material and baked, and the condendo milk and lemonade powder was poured in. It was delicious then, but not very appetizing now."
Escape Activities
"Colonel Clark was in charge of escape activities and all plans had to be approved by him. Our camp had two lines of fencing about ten or twelve feet high., spaced about eight feet apart with the space between them filled with crumpled barb wire., running all around the perimeter of the camp. Inside this fence was a forty foot space known as "No Mans Land", running all the way around the camp. There were tree stumps on it and it was bordered on the inside by a low fence. On the outside of the high fence were frequent guard posts about twenty feet high, each of which contained a machine gun on a swivel and a search light also on a swivel. These Guard posts were manned by the Germans twenty-four hours a day every day, and any Kriegie seen in "No Mans Land" could be shot without warning."
"Another fellow and I decided on a plan where we would take our pallet covers, spread a gluey mixture on them, sprinkle them with sand, and attach a stump made of cardboard on the end. We would pull the pallet cover over us and use the stump to cover our head and crawl out to the high fence with some camp made wire cutters. We would do this at dusk, and have some kind of diversion to attract the attention of the guards while we were doing our thing. We didn't get our plan into operation and someone else tried it later, but were shot at, captured, and spent a month in the "cooler" on bread and water."
"Most plans were unsuccessful, but the British Camp where we were first placed, had three tunnels under construction at one time called Tom, Dick, and Harry. Two tunnels were discovered by the German Ferrets, whom we called "Goons." But one was completed and over seventy men made it outside the wire. Several were caught quickly and others were rounded up later and gathered at a town south of Sagan. There they were all shot and killed. This action tended to slow down escape activities."
"As the war continued, more airmen were shot down and sent to our camp. Our eight man room was increased to a fourteen man room, and our food parcels went from one man per week to one per three men per week. We were all losing weight and were hungry all the time. Even the Reich "green death" soup began to taste pretty good."
"We sometimes saw huge air armadas of American planes going over, and also could hear faint bombardments from the east. We were hoping that the war would soon be over."
Winter Death March
"At 8:10 p.m. on January 27, 1945, we received the anticipated, but hard to believe, order from the German authorities to evacuate South Camp in thirty minutes. Some preparations had been made but bedlam broke loose when the order came."
"I had a pants pack made by tying the pant cuffs tightly and then stuffing each leg and the waist, cinching it with a cord. It could be carried over your shoulder. I started out with two blankets, two sets of summer underwear, one pair Officers pinks, toilet articles, two towels, one first aid equipment, five pairs of socks, a dozen handkerchiefs, two cartons of cigarettes, extra soap, food, and a log book."
"I wore a suit of summer underwear, a suit of winter underwear, one pair of wool pants, two pairs of socks, two olive drab wool shirts, one sweater, one sweatshirt, leather jacket, overcoat and a scarf. Later I put the pinks on and wore them also, and was never too warm."
"After packing we ravaged the cupboard of food we were unable to carry. Kriegie dreams came true when we bashed our food. Barracks were in chaos, with papers, furniture, food, etc. strewn through the rooms and the hall."
"We fell out at 9:30 p.m. in front of our block and marched to the gate.Morale was high though the future was uncertain. We had no idea where we were going, how far the march would take us, all in sub zero temperature with a stiff wind blowing snow.The crippled and sick were left at the gate and many of us pondered their fate. Rumor had the Russians only twenty five miles away."
"After one and a half hours wait standing in the snow, we were counted out the gate
and started the march at 11:00 p.m. We marched in column and were closely guarded by ample guards and dogs. The weather was cold, but we were warmly dressed and with three ten minute stops, we marched until 4:00 a.m., when we stopped for one and a half hours and received one fourth of a loaf of bread and some margarine."
"It became colder and Kriegies began throwing stuff away and building fires with it. My log book went along with seventy five of the best "There I Was" stories of both British and Americans being shot down. A cold wind was blowing, it was below zero, and we had no protection from the wind."
"We marched again at 5:30 a.m., and at 9:30 a.m., arrived at Gross Settin, which was about thirty kilometers from Sagan. We were housed in a barn after standing in the road two hours awaiting accomodations. There was no heat in the barn, but we burrowed in the hay, and the farm people gave us hot water for brews. Water froze when left sitting in the barn. It was too cold to sleep so I changed to dry socks and rested. I was amazed by the apparent unconcern of females when Kriegies were forced to use open ground for latrines."
"At 4:30 p.m., with a leaden sky, and blowing snow, we continued the march. It was colder than ever, but the march was through hilly country offering some protection from the wind. We were told the distance to Moskau, our next stop, was seventeen kilometers, but it turned out to be twenty five kilometers because they had put us on the wrong road. This was the hardest part of our trip since we were not in the best physical condition for such a trip."
"Several men dropped out along the way and were picked up by a horse drawn cart, others stopped at some of the farms we passed. Goon guards suffered more than the average Kriegie as they were mostly older men. Some of the guards deserted, others had frozen feet or dropped from exhaustion. Two guards were reported to have died. One Kriegie actually carried a guards rifle for him."
"About 1:30 a.m. we arrived at a glass factory where we had to stand outside for a half an hour before entering. It had one large room with three kilns in operation. It could accommodate about four hundred men, but sixteen hundred were jammed into it. It would have been fatal to remain outside in our exhausted condition. Upon entering, men passed out like flies due to the change in temperature. It was warm inside. Many were suffering from chilblains, blisters, frostbite, and frozen feet. Many were sick and vomiting, while others found space on lockers and equipment and went to sleep."
"Another factory was opened three kilometers away and five hundred men moved into it. It was the best accommodation at the stop. I set my pack on a box and got warm at a kiln, then helped move the sick. Later I slept on the box."
The March Continues
"January 29th. we were supposed to continue the march, but due to the exhausted condition of the men, Colonel goodrich got an extension until eight o'clock the next morning. The day was spent massaging limbs, locating a place to sleep, treating sorea, and building sleds to replace carrying our packs. We spent most of the time resting and sleeping. Here, we also received one fourth of a loaf of bread and some margarine. I suffered no ill effects from the march. Pete and I built a crude sled to hold both our packs which we would take turns pulling."
On January 30th. , we fell out at 10 a.m., and were marched three kilos through town and started for our next destination, Graushin, about 17 kilometers away. We arrived there about 6 p.m. and again were housed in barns. We obtained hot water from farmer for brews and also got a few shriveled apples - the first in twenty four months. We received one sixth of a loaf of bread from the Goons. We slept in all our clothes each night, including our caps, and again burrowed into the hay for warmth."
"On January 31st. we felll in line at 8 a.m., and started marching at 9 a.m. arriving at Spremberg abour 12 p.m. after marching about seven kilometers. We were marched into a Wermacht Infantry Post, and stood on the parade ground for an hour until we were dispersed into unheated garages. We were then sent out to a soup line where we were given hot barley soup. I had two Klim (powdered milk) tins full. It tasted good and was the first hot food we had eaten since leaving Sagan."
"We fell in line at 4 p.m. and marched three kilometers to the trains. We were put fifty men to a car which were considerably smaller than American train cars. It was impossible for all to lie down at once without lying on top of each other. Our car recently had horses in it and had not been cleaned, so several of us sacrificed a blanket to cover the floor so we could take turns sitting and lying down. "
"We spent three nights and two days in this car and received one half loaf of bread, one fourth can of meat, one teaspoon of jam, and one third pound of margarine from the Goons. After getting aboard the train, it was not stopped until the following afternoon for personal relief. We used cans and an overshoe in my car and poured it out in a crack by the door. After this, we made approximately two stops a day. It was quite a sight at one of these ten minute stops, usually near a village where all the people from the village came out to see the sight. With the wet floors and having to take turns sitting down, conditions were pretty bad, and it was easy to note the best and the worst in a human being."
Moosberg - Stalag Vll A
"On February 3rd., a Saturday, we arrived at Moosberg and Stalag VII A, our destination, which was northeast of Munich. There, we were detrained and marched into a transient Wermacht Camp. Here we were housed three hundred men to a barracks and six hundred men to a barracks, and stayed there until Monday afternoon. Those living in six hundred men barracks had the same sleeping conditions as we had on the train. We had one water spigot and field (slit trench) or French latrine for eighteen hundred men. Several officers jumped off the train near Moosberg to try to escape, but it appeared to be so near the wars end that the danger inherent in an escape attempt did not make the try worthwhile."
"
Monday, February 5th., we were searched, deloused, hot showered and placed into permanent Wermacht quarters with four hundred men to each barracks and twelve men to each bed block, which was very crowded. We were also put on one half Red Cross food parcel per man per week."
"We had marched, on foot, eighty kilometers or about fifty miles, of which fifty kilometers, or thirty miles, was marched in the first twenty six hours after leaving Sagan. Sagan was taken by the Russian Army two weeks after we left. on Saturday, February 11th."
Liberation!
Stalag VIIA
"Stalag VIIA was a very crowded, filthy, and very unhealthy living conditions. It was a large compound and held thousands of prisoners from many different countries and different branches of Service. We were all very hungry and a black market developed for food. Enlisted personnel were taken out of the camp every day to work on details, and were sometimes able to pick up some extra food which they would sell to the officers who were not allowed to leave camp."
"One fellow offered me about half of a one pound coffee can of wheat for my wedding ring my wife had given me. I would not give up the ring even though the wheat looked very enticing and I was very hungry. We finally made a deal and I got the wheat and he got my leather pilots jacket."
Stalag Luft VIIA Prisoners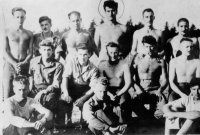 "Dysentery was rampant in this camp and Anderegg had a severe case. Blankets were hanging everywhere to dry out and there was no medical help for any problems. The aborts ran over and it was a terrible mess. Our only hope was that the war would end soon and we would get out of there."
"On April 29th. , a small arms fight was held by S.S. Troops and American Army personnel right at the camp. Most of us lay down on the floor of the barracks, as the bullets whizzed by overhead, until the firing ceased."
"Shortly after getting up we saw one of General Pattons Army Tanks driving right over the gate into our camp. It had hardly gotten through the fence when it was covered completely with American prisoners. Then on a smoke stack near our camp appeared the Stars and Stripes. It was such a wonderful sight, and also meant our liberation.There were very few dry eyes among us. I still get tears in my eyes when I visualize our Flag waving over the scene of our misery.To top it off, a P-51 American fighter plane flew low right over the camp and performed slow rolls into the distance. WHAT A DAY!!!!"
Photo of Stalag VIIA's Liberation Day
Note: My Father, now 97 years old, flew his flag proudly in his front yard as long as he was able. He dutifully raised it early in the morning, and always paused stoically and saluted before carefully lowering it each day, making sure it never touched the ground. So many people these days do not understand the meaning of that flag, nor have sacrificed so much to see it fly.
Fending for themselves
Many of Chucks' comments are about food. Something we take for granted, but once one experiences real hunger, becoming reaquainted with enough to eat is an experience in itself. Chuck dropped eighty pounds during his experience and he was not a large guy. He often states how he "faired well" and had "no ill effects" during many of these experiences. In reality, he looked awful when my folks and him were reunited in the States, and he had gained back quite a bit of weight before they were reunited.
The years of imprisonment left these starving men with little patience. Sweeney and a couple of his buddies gave up waiting on the Army to get them out of there and took it upon themselves......
"After being liberated on April 29th., most of us left the camp looking for food. We stopped at farms asking for milk and eggs. Some of the ex-prisoners found rifles and shot some deer in the area. Others took over a farmers pig pen and provided fresh pork for several messes."
"The U.S. Army took over management of the Camp after a couple days, placed American guards in the Goon Towers, and ordered us to wait in the camp for transportation orders. The Army also provided some food, so conditions in the camp had improved."
"Because nothing in the way of moving us out of there seemed to be forthcoming, Anderegg, Power and I took off on May 7th. by joining a funeral procession, to get out of the camp. We were heading towards Paris and our first stop was an American Infantry kitchen where the cook had just taken several loaves of white bread from the oven. I can still remember how sweet it tasted, almost like angel food cake.That night we stayed with an Engineering outfit and ate dinner at a table with a table cloth, china plates, and silver utensils, for the first time in almost two years."
"The Engineering outfit was sending a truck to Ypres, France, so we caught a ride on it to Frankfort. They also gave us a case of K Rations and the three of us sat in the back and munched on food most of the way. We got off the truck at the air base in Frankfort, and found a tent where the Red Cross was making doughnuts. We thought we were in heaven, eating fresh, warm doughnuts. After eating about a dozen apiece, they shut down the operation because they were afraid we would die from overeating."
"On May 7th., while at the air base in Frankfort, we met a pilot who had been in our old Bomb Group, but was now flying General Staff people in and out of S.H.E.A.F. (Supreme Headquarters European Allied Forces) located in Paris. He was the person who had packed my belongings back in England, after I was missing in action, and shipped them home to my Wife."
"He flew us to Manheim and then on to Paris, and took us to his base where we stayed in a Bachelor Officers Quarters. First, however, we went through a de-lousing area where we were sprayed with DDT and given a hot shower, and clean G.I. clothes. We went to the pay office after that and they let us draw eighty dollars each."
"We then went to a barber shop where I ordered every service they offered, including a manicure. We ate at the Officers mess on the base and I remember a sign over the door which read "Seconds on Everything except Butter". We always had two breakfasts, two lunches, and two dinners, and a bottle of Burgandy wine with dinner."
"The General Staff at S.H.E.A.F. had not seen or interviewed any ex-prisoners yet so we were invited tp a party in their Officers Club where we were questioned and feted. One of the Generals gave each of us a pad of chits that we could use to pay for whatever we needed or wanted in the way of services. We used them for taxis, meals,and for Hotel rooms when we moved to downtown Paris to take in the sights. It was in Paris that I was first able to call my wife and tell her I was on my way home."
We were in Paris on V.E. Day, and were in a jeep on the Champs de L'ycees with some Americans we had met. People had filled the street, and everyone was celebrating, we could hardly move. It was a joyous occasion for all of us."
__________________
Home
"My pilot friend from S.H.E.A.F. agreed to fly us to Camp Lucky Strike at LeHavre, France on May 11th. Lucky Strike was a departure point for troops leaving Europe, so we were very happy to be flown out there. The plane we rode in had S.H.E.A.F. markings on it, so when we appeared at Lucky Strike, our plane was met by all the Brass on the Base, but they immediately left when they saw three lowly Lieutenants get off."
"On May 12th. we started the processing procedure to get shipped back to the United States. We had paper work to do because we were unattached personnel. We also had to have a complete physical examination, among other things. To take the physical examination we had to strip down in a large squad tent, and then proceed through a dozen squad tents with a Doctor in each one asking questions and making their examinations. In most cases, if you told them you were o.k., they would send you to the next tent, so i was surprised to see a large group of men held up at one tent. When I got there I found the holdup was caused by one doctor who was giving rectal exams, and insisted on actually doing it."
"On May 17th. we were trucked out of Camp Lucky Strike to a tent camp in the LeHavre harbor area. We remained in this tent camp on a 30 minute alert schedule until May 20th. when we were trucked to the harbor and put aboard the "Sea Owl". This was one of Mr. Kaiser's ships."
"We remained in the harbor taking on passengers through the 21st., and on the 22nd. about 7:00 p.m., we were tugged out of the harbor and the anchor was dropped. At about 11:00 p.m. we shipped anchor and headed for southhampton, England. we arrived in the Southhampton harbor at about 7:00 a.m. on the 23rd. and were tugged in. We took on a number of wounded passengers and remained at the dock overnight."
"On May 24th. we were tugged out of the harbor about 8:00 a.m. and then dropped anchor, waiting to form a convoy for the trip home. We were told that we should reach the New York harbor in about 10 days, or by June 3rd. The convoy was formed about 11:00 a.m. and we were underway to the U.S.A."
After many days of travel by ship and trains, Lt. Sweeney finally was home in Montana and reunited with his Wife and the son he had never seen on June 9th. 1945. He and his Wife had been separated since February, 1942.
My parents met up with them on June 18th. 1945.
My Father had just returned from his Bomber Group.
2nd. Lt. Sweeney, standing. My Mother sitting in the back seat, Charles' Wife in the front seat.
This story was repeated thousands of times around the country for the lucky ones who came home.